Surety Bonds
What is a Surety Bond
A surety bond is a promise by a Surety Company (the company insuring the Bond) to pay one party requiring the Bond (the Obligee) a certain amount if the second party (the Principal) fails to meet the obligation on the bond form. The Surety Bond is designed to protect the Obligee against losses resulting from the Principal.
Types of Surety Bonds
There are different types of bonds: license & permit, ERISA, business services, probate and fiduciary just to name a few.
An example of a license and permit bond is the requirement of a State (Obligee) when an application is submitted for a Motor Vehicle Dealer license. The applicant (Principal) must satisfy the bond obligation (amount & expiration date), along with other regulated requirements.
If you're unsure about the type of Surety Bond you require, call us at (800) 364­-8833 to chat with a representative. We're here to help and answer your questions.
Surety Bond Application Process
To apply for a bond is simple. It requires completing an application, along with a credit check of the applicant (Principal). The turnaround time is usually less than 24 hours. In many instances, the applicant may request a one year premium or multi-year premium quote.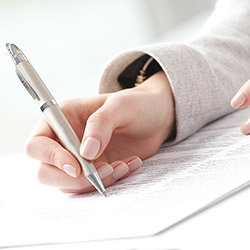 Surety Bond Underwriting
Your personal credit information and FICO score will determine your bond premium. We have surety companies that will underwrite flawless credit to less than ideal credit applicants and quote the most competitive rates available. In some cases, financial statements might be required.
Apply for a Surety Bond
There are several different ways to apply for your Surety Bond through AEC, Inc. You may apply for your bond and obtain a free quote, online, fax your application to (888) 855­-7111 or call us to apply over the phone at (800) 364­-8833 .
We're here to help and answer your questions. We want to add you to our list of satisfied customers and look forward to assisting you with your Surety Bond needs!